There's a lot to do in Salem, MA—it's not all just about the witches. Salem is an old New England city with a rich and complicated history. Locals refer to Salem as the "Witch City". The town swirls with tales of witchcraft, public hangings, famous authors, haunted houses, and creepy cemeteries. Salem is one of the most haunted places in America and the unofficial capital of all-things Halloween. So, grab your broomstick and face covering –  it's time to take a walk through Salem and explore it's rich and haunted history.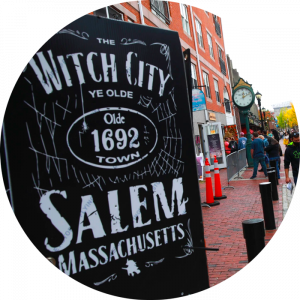 The Best Things to See and Do—By Foot!
Salem is a very walkable city. You can explore all the top spots by foot in less than a day. Start your tour at the Salem Visitor Center (2 New Liberty Street – plenty of parking available in the adjacent public garage).  Throughout the city, you will notice a Red Line painted on the ground – this is Salem's "Heritage Trail".  Similar to Boston's "Freedom Trail", the "Heritage Trail" is designed to connect visitors with the historic haunts and happenings around town. If you are in the trail, there's a good chance you are walking towards something worth checking out!
Walk and Shop Salem!
Designed for strolling and shopping, the Essex Pedestrian (Outdoor) Mall and Walkway is directly across the street from the Visitor Center. There is literally something for everyone – especially if you are looking for some authentic Halloween gear.  Maybe your a practicing witch and need some supplies. Either way – Salem has you covered. Cast a spell (for real!) at Crow Haven's Corner (Salem's oldest Witch Shop) or grab some Salem swag at Witch Tee's.  Ever wonder how a vampire dresses or accessorizes? Check out Vampfangs for all the latest in undead fashion!
Looking for something a little less occult? Salem has some of the finest boutiques, gift shops, and galleries on the North Shore. Pop in to Hive & Forge for some crafted collectibles or Emporium 32 for eclectic jewelry or home decor.  And, no visit to Salem is complete with roaming through the stacks at Wicked Good Books.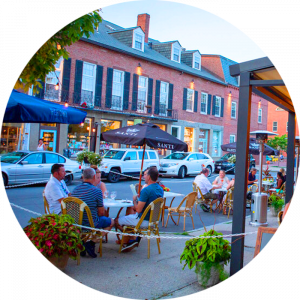 Eat and Drink Salem!
Salem doesn't get enough credit as a foodie destination, but if you are craving something delicious – chances are that Salem can whet that appetite or quench that thirst!
You can't be this close to the ocean without trying some local seafood.  For a no-frills option, check out the Lobster Shanty (open seasonally). If you like linen napkins and a curated wine list, make a reservation at Turner's Seafood – a local favorite housed in the same building where Alexander Graham Bell made the first long-distance phone call in 1877!
Salem is also building a reputation as a great place for pizza. Looking for a slice or whole pie, grab a seat at Bambolina's – known for delicious, rustic, wood-fired pizza (we recommend the classic Neopolitan). Dining out with the family? Try Flying Saucer Pizza Company that features some cool flavors (say "Pickle Rick" five times fast) sure to keep the kids entertained while they eat!
Thirsty? Grab a table at Notch Brewery & Taproom. On a nice day, their outdoor biergarten is a perfect escape from the bustling streetscape. Grab a draft for now and some cans for later! Have some time to kill?  Get yourself to Bit Bar – an arcade / pub that will bring out your inner-child because there is nothing better than Pac-Man, tater tots, and ice cold beer.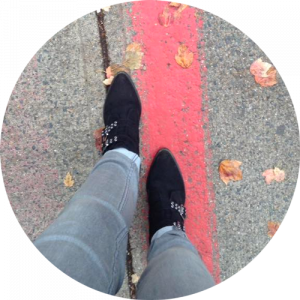 Learn Salem!
We know – learning can be hard, but not in Salem. You can explore the entire city AND learn about its rich, witch history at the same time. Follow the red, Heritage Trail and visit the Peabody Essex Museum, The Salem Witch Museum, the Witch House, and the Hawthorne's famous House of Seven Gables. Salem is full of colonial haunts and houses that will send chills down your spine – even in the summer!  Take a stroll by the harbor. Explore an old tall ship. Eat some Gibraltar candy at Ye Olde Pepper Candy Companie (the first candy ever made and sold in the US!). Marvel at some of the oldest homes in New England. Not much of a DIY explorer? You can jump on one of Salem's many walking tours. We recommend Go Trivia's Salem tour – it will take you through the whole city, ask you some trivia questions, and give you a self-guided experience at your own pace.  Take a few hours or all day – Go Trivia has something for everyone … and you get to compete with other teams to earn a spot on their coveted leaderboard!
No matter what your taste or appetite – Salem is a day-trip worth taking.  Come for the frights, but stay for the culture, food, and shopping. You won't believe everything that Salem has to offer.